Dental Implants
Dental implants are one of the most complex restorative dentistry treatments available from Dentists on the Square in Philadelphia. Many dentists offer this treatment without carrying out the proper preoperative exams to determine if the patient is a suitable candidate. At Dentists on the Square, we explore all the potential complications which may arise from dental implants before encouraging our patients to move forward with treatment.
A dental implant fuses with the bone that normally supports a tooth. While securing a crown is one aspect of this relationship, the implant promotes regrowth in the bone which restores an important function in the mouth. Once this important oral process is disrupted, the supporting bones in the mouth will begin to weaken and degrade. Dental implants are the only current treatment available from your dentist that restores the natural order and prevents bone loss.
Same Day Teeth Using DayLife® Implants
At Dentists on the Square, a Philadelphia dental implants specialist, we are pleased to offer one of the most advanced dental implant options available. Using DayLife® Implants, we can restore the entire upper or lower arch of teeth in a single day. Patients can enjoy the lifelike function, feel and appearance of dental implants without having to wait weeks or months for the completion of their new smile. After all, when it comes to replacing a full row of missing teeth, time is of the essence!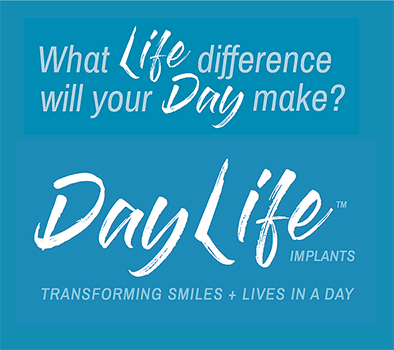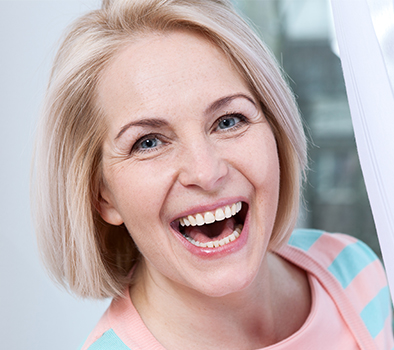 The innovative DayLife® system was developed by Dr. Joseph Roberts, DDS, consistently peer-recognized for excellence in Philadelphia Magazine as "Top Cosmetic Dentist," in collaboration with regional dental implant specialists.
At our Philadelphia dental implant practice, we have what it takes to create a stunning and rejuvenated smile in just one day. Our team includes an oral surgeon, prosthodontist and lab technician, as well as the latest dental imaging technology available. This implant-supported denture system allows patients to walk away with a more confident smile and the valued ability to enjoy healthier foods with ease and comfort. To learn more about same day teeth using DayLife® Implants, please contact our office. We gladly offer financing options to help you afford this life-changing investment.
Excellence in Implant Dentistry
How many times have you received simple treatments from your dentist, only to find that the restoration doesn't even last a year? If you want dental implants that will stand the test of time, you need to trust in a professional from Dentists on the Square. We are always conscious of the various complications which can arise from treatments. This is why we are especially careful when it comes to implant dentistry.
Your pathway to stronger, healthier teeth is with Dentists on the Square in Philadelphia. Our team goes the extra mile to ensure that all our patients receive expert care from people who are concerned with your long term oral health. We are your family friendly local dentist and experts in implant dentistry.
Have you considered implant dentistry in Philadelphia, but didn't know where to turn for the best advice and treatment? Dentists on the Square are here to provide you with the education you need in deciding whether dental implants are the right choice for you. Contact us today to schedule an appointment.