General Dentists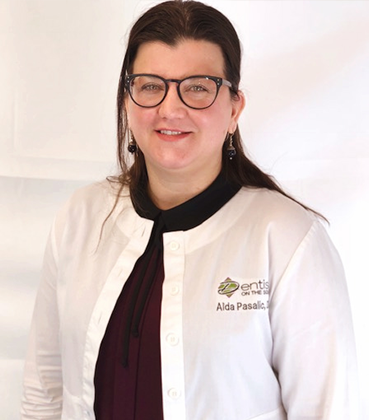 Dr. Aida Pasalic
Originally from Bosnia, Dr. Pasalic moved to Philadelphia in 1996. Philadelphia quickly became home, and she received her degree in dentistry from the University of Pennsylvania School of Dental Medicine. She was selected to enter Temple University Dental School's Advanced Education in General Dentistry Program, a postdoctoral program which emphasized treating medically complex cases as well as implant dentistry.
Dr. Pasalic stays current with continuing education courses throughout the year to advance her knowledge and improve her skills. She is a member of The Academy of General Dentistry and the American Dental Association. Dr. Pasalic was a clinical instructor at Temple University for several years before joining the team at Dentists on the Square.
Dr. Aida Pasalic is committed to creating healthy and beautiful smiles for each of her patients in a calm and comforting atmosphere.
When not in the office, Dr. Pasalic can be found cooking, biking, or hanging out with her "three boys"- her husband and two sons.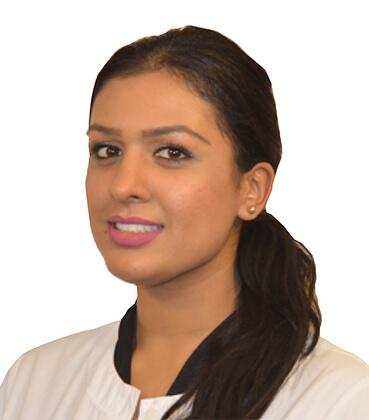 Dr. Ayesha Sultan
Dr. Ayesha Sultan is originally from the Midwest where she grew up in Naperville, Illinois. She graduated from the University of Illinois at Chicago with honors in biology. She then pursued her Doctorate in Dental Medicine at Western University of Health Sciences. While living in Southern California, Dr. Sultan served as a board member for multiple organizations including the American Association of Women in Dentistry and American Dental Education Association. She was also a Girl Scouts troop leader for underprivileged young women in the city of Pomona, CA.
Dr. Sultan is currently an active member of the American Dental Association, Pennsylvania Dental Association and Philadelphia Dental Society.
Since beginning her career, Dr. Sultan strongly believes in communicating the importance of dental health to her patients and involving them in every step of their treatment. She stays current with the latest techniques and innovations by taking continuing education courses, primarily focusing on cosmetic dentistry and implants. She is also Invisalign certified.
Dr. Sultan currently resides in Brewerytown with her husband and son. In her free time, she likes to run, travel the world, cook and try new cuisines.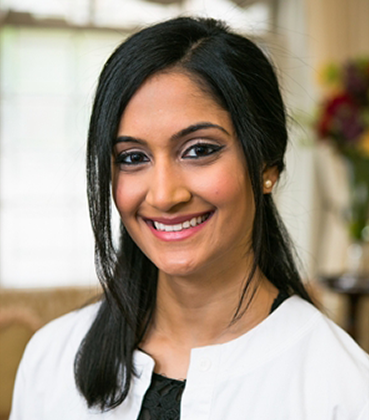 Dr. Shruti Tewari
Dr. Shruti Tewari earned her Doctor of Dental Medicine degree from Temple Kornberg School of Dentistry in Philadelphia, where she received an esteemed award for her professionalism and ethics. After graduating, it has continued to be a passion of hers to pursue specialized training in her field to provide the most technologically advanced treatment to her patients. She spends much of her free time traveling around the country to take courses and learn from the most renowned dentists in their specific fields.
Her postgraduate training includes a distinctive six-month implant continuum training course in New York, atraumatic gentle extractions, bone grafting, and advanced occlusion (or "bite relationship") training. She is a certified provider of Invisalign and the high-tech diode laser.
Dr. Tewari is known for having a uniquely gentle touch and calming demeanor which makes what can be a scary environment for most, feel much more comfortable. In fact, her favorite kind of patients are those that have avoided the dentist for years out of fear. She loves being the person to partner with them and helps walk them through getting their dental health back on track. Her primary goal as a provider is to build trusted, lifelong relationships with her patients, using the most conservative and preventative approach for treatment.
During her free time, Dr. Tewari loves trying new restaurants with her husband and spending time with her new puppy, Snoop!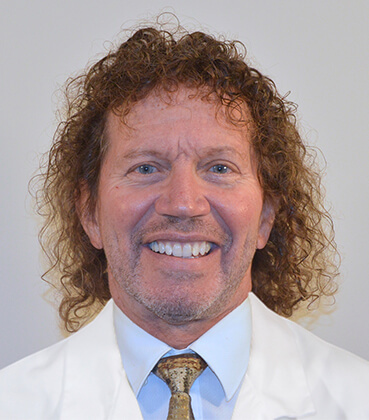 Dr. Joseph Roberts (Cosmetic Dentist)
Dr. Roberts is known for his gentle touch and taking his patient's comfort seriously. He has a way of giving "painless novocaine" which his patients love and is often mentioned in reviews. Dr. Roberts' combination of training and experience, along with his calm and assured manner, make the most difficult procedures seem simple for his patients.
Dr. Joseph Roberts completed a fellowship in the Academy of General Dentistry and has received formal dental education at Temple University School of Dental Medicine, Montefiore Hospital and Harvard School of Dental Medicine. Dr. Roberts has served as president of the Eastern Dental Society as well a founding member and president of the Philadelphia Implant Society. Dr. Roberts has been published in the Journal of the American Dental Association and the Journal of Oral and Maxillofacial Surgery. He is an active member of local and national dental organizations and has lectured abroad in dental implants and digital radiography. Dr. Roberts serves on the board of the Kornberg School of Dentistry.
As part of his passion for music and education, Dr. Roberts is the founder of Let Them Rock, a nonprofit dedicated to scholarships for performance-based music education. He is also a founding partner of School of Rock. School of Rock started as one school in Philadelphia and is now grown to nearly 300 schools in 34 states and 10 countries, and is the largest provider of music education in the U.S.
Specialists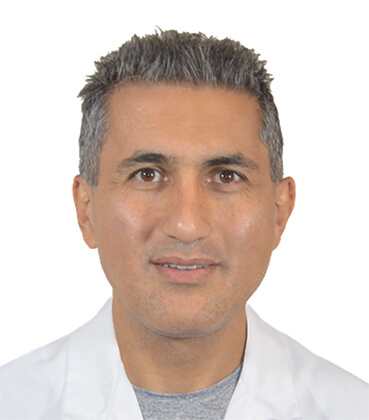 Dr. Homayon Berenji (Endodontist)
Dr. Homayon Berenji has been a dentist for more than 20 years. He is a graduate of the University of Pennsylvania School of Dental Medicine where he earned his DMD.
After practicing for 8 years in southern California, Dr. Berenji returned to Philadelphia for his residency at The University of Pennsylvania, where he received his specialty certificate in endodontics.
He is a faculty member in the Department of Endodontics of the University of Pennsylvania, and is in his last step of becoming a Diplomate of the American Board of Endodontics.
Dr. Berenji knows most people are fearful of having a root canal. Therefore, his goal is to make sure that every patient is comfortable and pain-free during their root canal procedure.
Dr. Berenji enjoys spending his spare time with his family and friends. He also enjoys reading, traveling and cooking.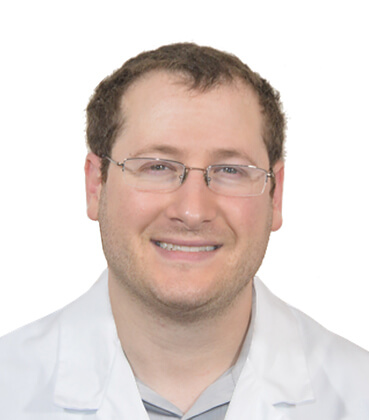 Dr. Adam Getreu (Periodontist)
Dr. Adam Getreu earned his Doctor of Dental Surgery degree from Columbia University College of Dental Medicine. Having a strong interest in the surgical side of dentistry, Dr. Getreu advanced his education and received his specialty training from Temple University Department of Periodontology and Oral Implantology earning his periodontics certificate with a masters in oral biology.
Dr. Getreu is a Diplomate of the American Board of Periodontology.
Dr. Getreu is a member of the Delaware Valley Academy of Osseointegration, Northeastern Society of Periodontics, American Academy of Periodontology, the American Dental Association and is a Diplomate of the International Congress of Oral Implantologists.
As an avid cyclist, Dr. Getreu can be found most days taking in the sunrise and serenity of riding along the Schuylkill River.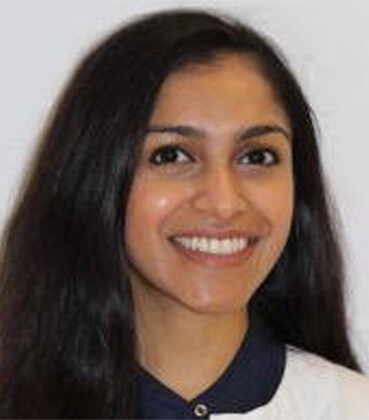 Dr. Anu Nellissery (Orthodontist)
Dr. Nellissery is a native of Simsbury, CT, and graduated from the University of Connecticut where she received her DMD degree. She then went on to complete her orthodontics specialty training at the University of Maryland, Baltimore. She is a Diplomate of the American Board of Orthodontics and has received several awards and honors for her clinical and academic work, including membership in Omicron Kappa Upsilon dental honor society.
Dr. Nellissery's treatment philosophy focuses on creating beautiful smiles that will last a lifetime while maintaining overall oral health. She attends continuing education courses with an emphasis on multidisciplinary orthodontic treatment and is experienced with several treatment modalities including Invisalign and clear braces. Dr. Nellissery is active in the professional dental community and is a member of the American Association of Orthodontists, American Dental Association, Mid-Atlantic Society of Orthodontists, and Pennsylvania Dental Association. When she's not seeing patients, Dr. Nellissery enjoys spending time with her family, yoga, travel, reading, baking and wine tasting. She loves meeting new people and is tremendously excited to be a part of the team at Dentists on the Square!