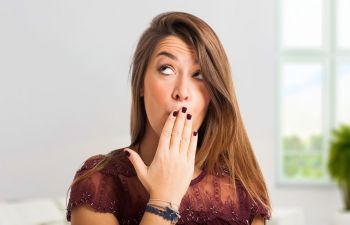 Do you live in constant fear that you have bad breath? Halitosis, commonly known as bad breath,  could spell doom for your social life and professional reputation. Having bad breath can also signal a significant health problem that needs to be addressed by a professional.
If you think that you suffer from bad breath, then you need to do more than just mask it with minty chewing gum. Banish halitosis for good by trying the following tips below:
Drink Water
A dry mouth is the perfect environment for smelly bacteria to flourish. Minimize germ growth by staying hydrated with plain water. Drinking beverages that contain caffeine, sugar, or alcohol can dry out your mouth and make you prone to bad breath.
Clean Your Tongue
You may brush your teeth twice a day but if you don't clean your tongue then all the debris left on it will make your breath smell. Clean your tongue with a toothbrush or tongue scraper at least once a day.
Eat a Salad
Fresh fruits and vegetables are a great way to freshen up breath, especially after eating a meal that's loaded with garlic or onions. Lettuce, apples, and mint are perfect for neutralizing strong odors.
Improve Your Oral Hygiene
Your bad breath may simply be a sign that your brushing and flossing technique could use some improvement. A dentist or dental hygienist can give you some personalized tips to make your routine more effective.
Visit a Philadelphia Dentist
Having bad breath can indicate a serious general or oral health problem. See a Philadelphia dental professional to find out if there is a tooth or gum issue causing your halitosis.
The Dentists on the Square will help you get rid of your bad breath for good! Call us today to plan a consultation.
Posted on behalf of Dentists on the Square