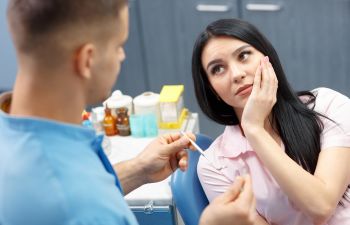 A toothache can ruin just about anything: your favorite meal, a vacation, a date, a family gathering, even a good night's rest. You can't focus on anything except the discomfort.
Besides the pain, you're also very anxious about what could be causing your toothache.
Here are seven potential causes of your dental discomfort…
Cavity
When a spot of decay gets close to the tooth's nerve, you'll feel it. Cavities can become suddenly sensitive to temperature and sweet foods.
Dental Abscesses
Decay that infects the tooth nerve turns into an abscess – a painful collection of pus and bacteria that drains out of the gums.
Gum Recession
Gum recession happens slowly, but you may notice the effects suddenly. Exposed tooth roots are very sensitive to temperature changes.
Tooth Fracture
A cracked tooth can hurt a little, a lot, or not at all. What was once a small fracture can grow with time and cause you sudden pain.
Bruised Gum Ligament
Do you remember knocking your tooth against something hard? You may have bruised a ligament in the gums around the root.
Loose Dental Restorations
You may develop a toothache if you lose all or part of a filling, bridge, or crown that once protected your tooth.
Sinus Infection
Did you know that sore sinuses can make it feel like your tooth is hurting? If you're prone to sinus infections, then your tooth may not be to blame, after all.
This list covers the basics, but there are still several other possibilities. To find out what's causing your dental pain, you need to contact a Philadelphia emergency dentist. Call Dentists on the Square if you're in pain right now and need assistance.
Posted on behalf of Dentists on the Square