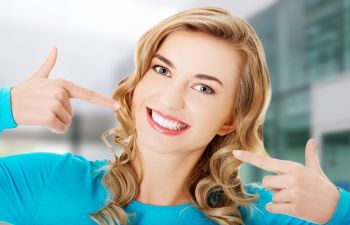 Whitening strips are a popular at-home teeth bleaching technique. But can they get you that glowing smile you're after?
The Perks of Teeth Bleaching Strips
Whitening strips are convenient and less messy than whitening gel trays. You can easily put them on and take them off on-the-go, they're lightweight, and easy to pack.
Bleaching strips contain measured doses of peroxide that soak into enamel pores and lift stain. Many people report good results after using these over the counter (OTD) products.
Why OTC Dental Bleaching Products Deliver Limited Results
For one thing, the strips only expose the outer layers of the teeth to a mild peroxide gel. The spots where the sides of teeth touch each other isn't easy to access with the one-dimensional bleaching surface. You could end up with dark or dull edges around your white teeth.
Additionally, the amount of peroxide in bleaching strips has to be kept to a safe minimum for a product to be sold over-the-counter. This means you'd have to wear the strips almost constantly for a long time to get intense results. Doing that can result in tooth pain and tissue irritation.
Are Dental Whitening Strips Dangerous?
Whitening strips are generally safe for teeth, but they can cause problems if you don't use them properly. The peroxide can be irritating to your gums and it's inevitable that a whitening strip will be in contact with your gums.
Using any bleaching product for too long or at the wrong concentration can cause hypersensitivity.
The Best Teeth Bleaching Methods in Philadelphia
To get the smile of your dreams in the safest and most effective method, schedule a consultation with one of the cosmetic providers at Dentists on the Square.
Posted on behalf of Dentists on the Square