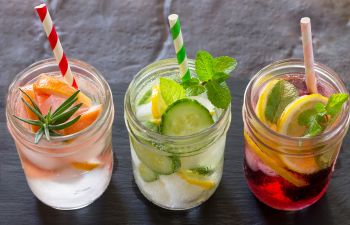 You know that staying hydrated is essential for healthy body function. But your oral health is also directly affected by the amount of water you drink.
Philadelphia dentists explain why water is so important.
Hydration Keeps Your Mouth Comfortable
Your mouth produces saliva to help break down food. In fact, the digestive process begins right inside of your mouth, since saliva breaks down molecules in carbohydrates. As you chew food, saliva helps it to smoothly clear your mouth and down your throat.
If you don't have enough saliva due to a lack of water, then your mouth will be sticky and chewing food will be uncomfortable. A dry mouth (xerostomia) is more susceptible to injuries during eating, since the tissues are delicate and easily harmed when there is no lubrication.
Staying Hydrated Prevents Gingivitis
Dry gums tend to swell and recede away from teeth. They also collect plaque bacteria that cause gingivitis. As long as you drink lots of water, your gums will stay hydrated, clean, and comfortable.
Getting Lots of Water Lowers Your Cavity Risk
Drinking lots of water is good for your teeth in two ways in particular. First, it's a better drink option over those sugary juices and sodas found all over Philly. These beverages are known to erode enamel and lead to cavities. Plain water has zero chance of rotting your teeth.
Secondly, drinking water keeps that saliva flowing freely. As saliva washes over your teeth, it neutralizes acids produced by bacteria, restores minerals to the enamel, and rinses away plaque and food.
Is your mouth telling you it's time to drink more water? Find out by scheduling an appointment here at Dentists on the Square.
Posted on behalf of Dentists on the Square