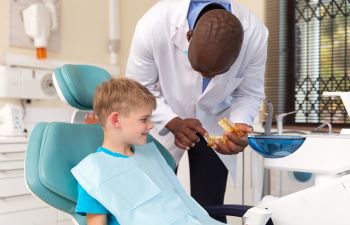 There are many capable pediatric and general dentists right here in Philly. How do you decide between a pediatric dentist and a regular dentist for your child?
When a Pediatric Dentist Is Best for Your Child
Pediatric dental offices are equipped to provide dental treatment under unique or sensitive circumstances. They'll have equipment that helps them safely sedate children. They'll also have resources for smaller mouths and teeth than what's usually available in a family practice.
If your child has special needs or requires complex treatment (like a root canal) at a very young age, then seeing a pediatric dentist may be right for him or her.
Why You May Not Need a Pediatric Dentist
Regular family dentists have extensive training in providing dental treatment to small children. Taking your child to a general dentist may be more convenient than taking them to see a pediatric specialist elsewhere. There's also the benefit of being able to schedule you and your child's dental visits on the same day.
You may also find that you'll have greater trust in a dental professional who works with your entire family and knows everyone personally!
Children's Dentist in Philadelphia
If your child doesn't have a dentist yet, get started by scheduling a visit for your family at the Dentists on the Square. We're welcoming new patients and would love to get to know your whole family! We offer all of the fundamental dental services that children need, including:
Dental exams
X-rays
Cleanings
Fluoride treatments
Sealants
If we find something in your child's smile that requires the help of a specialist, then you can count on us to refer you to the right pediatric dentist. Call today for more information.
Posted on behalf of Dentists on the Square