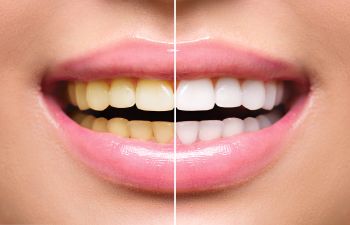 The image of long yellow teeth isn't a pretty one. In fact, you may be downright terrified if you notice that your teeth are starting to darken no matter how much you brush.
What could be turning your teeth yellow? Most people think that food and beverages cause their teeth to turn yellow. This is because food, and especially drinks with dark pigments in them, can sink into tooth enamel and cause yellow discoloration after years of exposure. Professional teeth whitening can help lighten teeth stained this way, but you can keep your teeth bright if you limit:
Coffee
Black tea
Red wine
Dark berries and fruit juices
Other possible causes include the following:
Cigarettes are notorious for causing tooth discoloration. Even if you kept your teeth white and healthy for a while, many years of tobacco use will catch up to you and cause yellow teeth.
Tooth enamel wears away after many years of use. The inner yellow-colored dentin layer of your teeth becomes more visible as you age. Teeth tend to get darker and yellower over time as a result.
That enamel layer on your teeth both protects your teeth and keeps them looking bright. If your enamel starts to wear away for any reason, it can leave you with vivid patches of yellow dentin showing through. Enamel erosion can be caused by reflux disease, tooth grinding, acidic diets, or aggressive tooth brushing.
Having long yellow teeth may actually be a sign of gum recession. As gums shrink away from your teeth, they leave the darker yellow roots exposed.
To find out what's causing your yellow teeth and get the best teeth whitening treatment in Philly, call Dentists on the Square.
Posted on behalf of Dentists on the Square