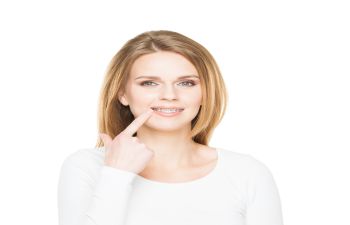 Think that your straight teeth mean you don't need braces? Here's why you may want to think again.
Our Philadelphia orthodontist will examine your smile for signs of malocclusion.
Malocclusion literally means "bad bite" or teeth that aren't lined up in the healthiest way.
Not all malocclusions are marked by visibly crooked teeth. Braces are famous for making crooked and crowded teeth look nicer. But they also correct a variety of less visible bite problems.
Overbite
An overbite is when your upper front teeth close far down over the lower front ones and nearly or completely cover them. Your lower teeth may even bite into the roof of your mouth.
Crossbite
Upper teeth should always slightly overlap the outer edges of the lower teeth. If the edges of the lower teeth stick out farther than the upper, then that's a crossbite.
Underbite
When your jaw and lower teeth jut out beyond your upper front teeth, that's an underbite.
Open Bite
If you have a spot in your smile where your upper and lower teeth don't meet at all then you probably have an open bite.
Midline Shift
Take a look at the space between your two upper front teeth. If it doesn't line up exactly with the center of your face, then your midline may be shifted a coupled millimeters.
Correcting a bad bite takes strain off the TMJ and evens out bite pressure across all the teeth. If you don't treat a malocclusion, you may suffer from premature enamel wear, tooth sensitivity, biting and chewing difficulties, and even an increased risk of tooth fractures.
For the best orthodontic treatment and evaluations in Philly, choose Dentists on the Square!
Posted on behalf of Dentists on the Square